Because sometimes I'm not completely wrong about everything…
Tramlines has become a yearly pilgrimage for me that has even eclipsed my once beloved Leeds Fest. 2018 sees the acclaimed festival returning for its tenth year. A landmark that deserves a celebration. Despite the absence of the Arctic Monkeys, the Tramlines organisers have pulled off a stunning line up this year with Noel Gallagher, Stereophonics and De La Soul just three of the big names that are scattered across six stages. You don't need a blog post to tell you about Noel Gallagher however, so the purpose of this article is to shine a light on those acts that perhaps don't have the same level of recognition as those already mentioned. Starting with…
10. Honeyblood
When: Saturday. Library Stage. 6.15pm.
Quite simply one of the most underrated bands out there at the moment. Scottish. Sexy. Loud. Not unlike Rod Stewart. Although in many ways, not at all like Rod Stewart. I've lost my train of thought again… Just go see Honeyblood.
9. Tom Stade
When: Saturday. The Leadmill Stage. 2.35pm.
Live comedy at a festival is often disappointing but if any man can make a soulless, corporate circus top feel homely and intimate, it is Tom Stade. The heady mix of being a Canadian born, Edinburgh resident ensures that Stade has a uniquely brilliant take on British life. After catching him at the Doncaster Dome last year and laughing all the way through, I will be making a special effort to see what Tom has up his sleeve this time round. Not for the faint hearted. Has anyone with a faint heart ever read that and thought 'better swerve that then'? Interesting.
8. Milburn
When: Friday. Main Stage. 6.30pm.
Hardly the most unheard of band on this list but Milburn's set has an end of an era feel about it with the band dropping numerous hints that they will go on hiatus after this show. What better way for Sheffield favourite Joe Carnall Jnr and his band to sign off then with a triumphant homecoming show at a festival that he has played at in numerous guises many times before. I have seen Milburn three times since they have reformed, this one will probably eclipse all of them…
7. The Orielles
When: Friday. The Leadmill Stage. 5.15pm.
Almost certainly the best thing to ever come out of Halifax, the Orielles are made up of sisters Esme and Sidonie and guitarist Henry Wade. The West Yorkshire trio have gone from strength to strength, and their breezy, '80s guitar sound is a breath of fresh air amidst a landscape of macho indie boys and forgettable electronica.
6. Pale Waves
When: Sunday. T'Other Stage. 4.45pm.
Manchester's Pale Waves formed in 2014 and have been identified as rising stars of the Indie scene by everyone from the NME to the Guardian. Their recent EP All The Things I Never Said has garnered rave reviews and while they all look bloody terrifying, I'm sure they love biscuits and having a bath just like the rest of us. It's important to normalise things that you are afraid of…
On a serious note though, the buzz around Pale Waves is such that they could be future Tramlines headliners. Catch them now before they explode.
5. Bang Bang Romeo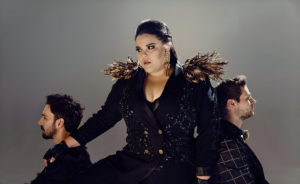 When: Saturday. Main Stage. 1.30pm.
Years of graft is paying off for Doncaster band Bang Bang Romeo and things are starting to move pretty quickly. There is a nagging feeling that they have yet to find a way to translate their incendiary live shows in the studio but there is no doubting their power as a live act. You won't hear a more dominant voice anywhere at Hillsborough park then that of BBR frontwoman Starsie Walker and the band have a fierce reputation as an act that always delivers.
4. Teleman
When: Sunday. Library Stage. 7.45pm.
Possibly one of the most underrated indie bands in the UK at the moment, Teleman rose from the ashes of Pete & The Pirates to produce a pair of albums far superior to anything the aforementioned act ever released. Now on the verge of releasing their third album Family of Aliens, the London band return to Tramlines to provide crunching guitars, smart lyrics and beautiful Hawaiian shirts. What more could you ask of a festival band?
3. Gengahr
When: Sunday. T'Other Stage. 2:45pm.
Another band that have been around a while without ever receiving the plaudits they deserve. Gengahr produce floaty, indie anthems with a bite and I can confirm that they sound incredible in a tiny, sweaty club. Whether they can translate their insular sound to a massive festival stage remains to be seen but I, for one, will be there to see them try. It's also pretty much a certainty that Gengahr will be the only act at Tramlines 2018 to be named after a Pokemon.
2. The Magic Gang
When: Friday. The Leadmill Stage. 6.30pm.
Brighton four piece The Magic Gang blew up seemingly overnight following the release of their self-titled debut album and the band are set to light up festivals across Europe this year with their unique brand of unashamed indie-pop.
When sat in a dark room surrounded by your own neuroses and empty pizza boxes, only Radiohead will do. When in a muddy field, clutching a pint of cider however, The Magic Gang are your men. Quite simply the perfect festival band.
1. The Big Moon
When: Friday. Main Stage. 4:15pm.
Firstly because I like writing lists that end with The Big Moon at number one but mostly because they are chuffing brilliant. Not only is their debut album the best guitar album of the last two years, they are also a fun and formidable live act. After appearing on the Dev Green stage last year, they have earnt their sojourn to the big time. I love this band and I promise that if you take a chance on The Big Moon this year, you will love them too.