Can you hear us pumping on your stereo?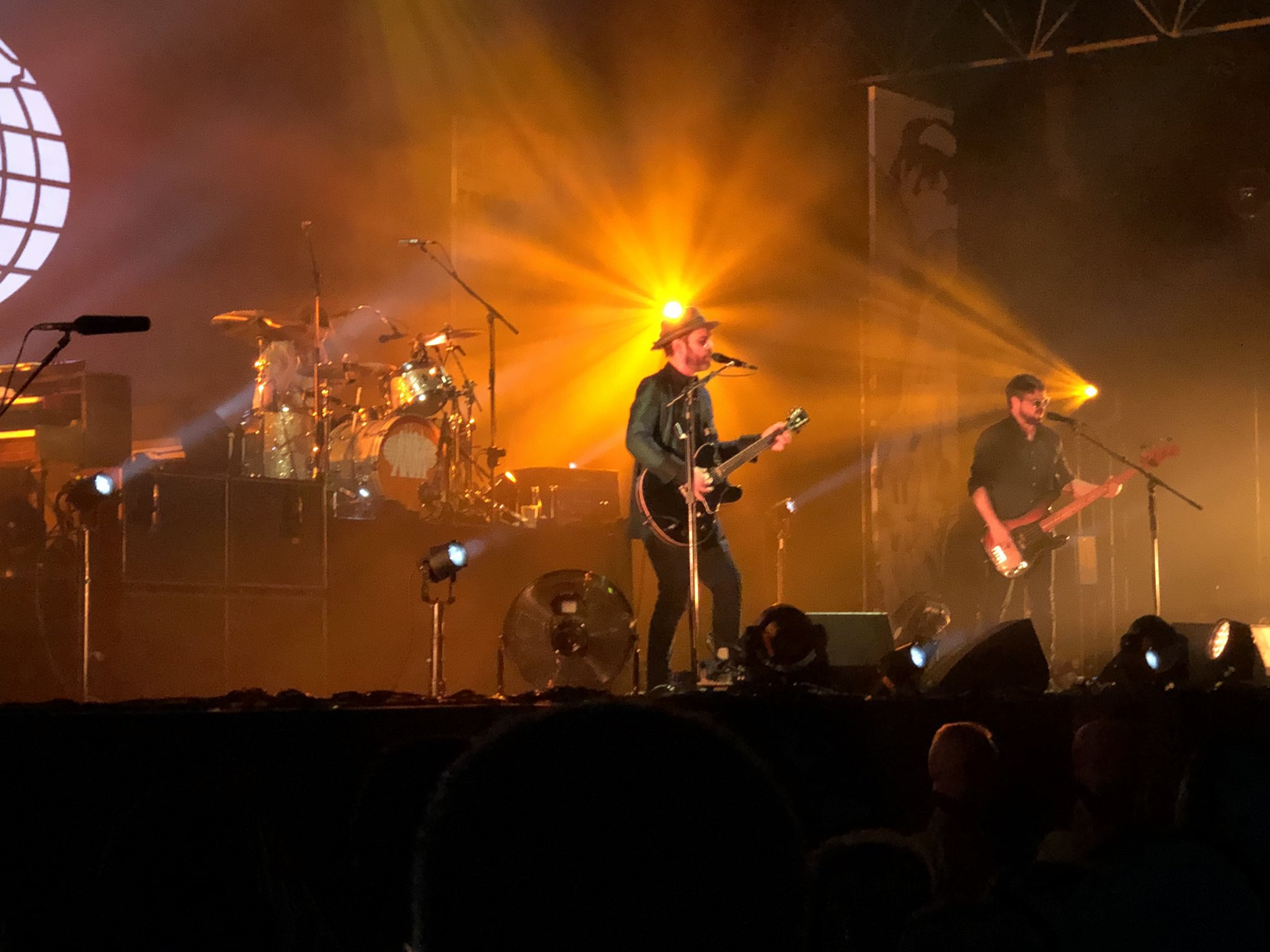 It's been ten long years since Supergrass initially disbanded and the world got a little darker. In the meantime, Gaz Coombes has released a trio of critically acclaimed solo albums, drummer Danny Goffey has also been busy under his Vangoffey moniker, and bassist Mick Quinn has joined fellow Oxford band Swervedriver (and seemingly not aged a day in the process). Gaz's brother Rob completes the line up on keyboards and on a riotous night at Alexandra Palace it almost feels as though they have never been away at all…
Firstly, a word for the aforementioned venue. I've never been to Ally Pally before, sat astride a steep hill and privy to a beautiful view of the London skyline, the iconic venue has a magic all of its own, and works as the perfect setting for a band who have always had their own special kind of alchemy.
The lights go down as the two huge screens either side of the stage flash images from the Oxford bands' heady britpop heyday and beyond. Bursting straight into In It for the Money, it is clear from Goffey's pounding drums and Gaz's soaring vocals that Supergrass mean business. By the time the stomping intro to Mansize Rooster shakes Ally Pally to its foundations the crowd are already eating out of their hand. A perfect symbiosis of singing, cider and sideburns.
From then on, it's all hit parade with the haunting refrain of Mary making way for the ethereal Moving. On Seen the Light Gaz triumphantly proclaims that he is a rock 'n' roll singer in a rock 'n' roll band… it's hard to argue.
Late in the Day is a reminder of just how many great singles this band released and it is not unreasonable to suggest that at the gigs halfway point we have already heard 7 or 8 tracks that could be set closers for most of Supergrass' peers. An insistent Richard III cuts through the beer induced haze with the rowdy London crowd in raptures at Gaz's feet.
What is striking about these songs is just how fresh they still sound. This is a testament to how innovative and pioneering Supergrass were (and still are). There simply isn't anyone else like them and they have been sorely missed from the UK's moribund musical landscape. Grace works as an irresistible slice of pure power pop before the unmistakable intro to Alright takes me, and thousands of others, plunging back through time to the long, hot summer of 1995. Despite being the band's most well known song, their back catalogue is strong enough to be able to throw it in partway through the set with no complaints. Gaz also nods to the ubiquitous coronavirus scare by changing the lyrics to 'keep our hands nice and clean'… It's nice to see the sense of humour is still intact.
A triumphant rendition of Sun Hits the Sky is fittingly towering and segues nicely into Lenny before the band leave the set with electricity in the air and the weight of expectation hanging heavy on the encore. They return to the stage and take us back to where it all started. Caught by the Fuzz was written when the band were still teenagers and it's still ridiculously exciting and effervescent even decades later.
Strange Ones is perhaps the best single portrayal of the Supergrass sound. At once bizarre, melodic and unique, it sounds impossibly exhilarating at the end of a long set but both band and audience keep something in the tank for set closer Pumping on Your Stereo.
Danny apologises on Gaz's behalf for his sore throat (which has zero negative effect on his actual performance) before effusive thanks and praise are dished out by Gaz himself. The crowd pour out, and with the London skyline still twinkling in the distance we know we have witnessed something special. This band. This venue. Supergrass are back.