Dorothy was right though…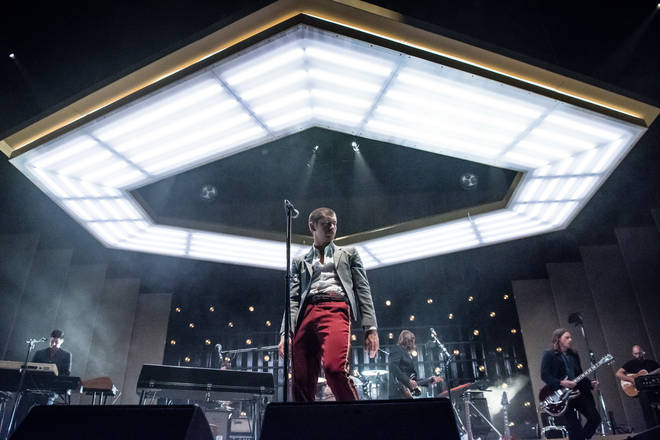 After releasing an album mostly set in outer space, Alex Turner and the Arctic Monkeys have never felt further away from Sheffield. The third night of their extended homecoming is a microcosm of the band themselves; sometimes difficult, always interesting, forever drenched in genius…
Legendary performance poet John Cooper Clarke introduces the band as his 'favourite act in the world' following a rendition of I Wanna Be Yours, the poem that the band adapted into a song of their own, and from the moment Alex Turner strolls on stage it is clear that this isn't just a gig, it's a performance.
Thankfully, the band have been switching up their setlist over these live dates, which adds an air of mystery that was missing on the regimented AM tour. Star Treatment is perhaps a low key start but from there the brutal assault of Brianstorm makes way for a pounding Arabella and an impassioned Crying Lightning. The latter is surely one of Alex Turner's best ever songs, both lyrically and musically, and it's performance makes you long for a time when the band were capable of, or even just interested in, writing songs. Actual songs, not just sneering in-jokes to prove Turner's towering intellect.
Arctic Monkey's seminal debut album Whatever People Say I Am, That's What I'm Not is a record that I have pretty much left behind, in as much as I never listen to it anymore, but there is no denying it's influence or it's raw power as the batshit crowd reaction for The View From The Afternoon attests to. An extended 505 feels particularly special in Sheffield with its hometown longing and talk of going back and the title track from Tranquillity Base Hotel + Casino fits perfectly with the Vegas light show and Turner's assured stage presence.
The band once again reach back to their past with an almost acapella version of Mardy Bum which sees Turner singing over a minimalist drum loop joined by a thousand screaming devotees in the audience. Turner loses his train of thought during One Point Perspective (as is now traditional) before a tour debut of No 1 Party Anthem bleeds into Do Me A Favour. The latter being perhaps Arctic Monkeys most underrated song.
At this point in the evening, Alex Turner and co are living up to their deserved reputation as the best band in the world. Matt Helder's drums, long since accepted as the band's secret weapon, are brutish and incendiary, Jamie Cook stalks the stage attacking his guitar at will and Turner himself is as committed and compelling as he has ever been. And yet…
What should be the beginning of an incredible crescendo ends up with the train coming off the rails slightly. Don't Sit Down 'Cause I've Moved Your Chair is the sole representative from the band's disappointing 2011 release Suck It And See, Snap Out of It is one song too many from 2013's AM and She Looks Like Fun sounds as unlistenable live as it does on record.
Do I Wanna Know raises the standard back to something like the magic-in-a-bottle atmosphere that was captured earlier in the evening but then, despite having more great songs in their arsenal than any other band of their era, Sheffield's finest go with Pretty Visitors, a deep cut from their experimental masterpiece Humbug. A decent track for sure, but one that has no place at an Arctic Monkeys live show in 2018. Four Out of Five closes out the first part of the evening and while it sounds good, there is a feeling of missed opportunity in the air. The crowd have gone from eating out of Alex Turner's beautiful hand whilst staring lovingly into his eyes to thinking of excuses to postpone.
After a lengthy intermission in which one can only imagine the band are sipping martini's and trying on different pairs of sunglasses, Arctic Monkeys finally return to the stage for yet another misstep in the shape of One For The Road. A fine song for earlier in the set perhaps but not for a restless crowd desperate for something more memorable. The inevitable run through of I Bet That You Look Good on the Dancefloor is preceded by Turner stating 'when we wrote this song in 2004 it meant very little… now it means even less'. A line that is either genuinely funny or a bit of a dick move depending on your level of devotion to the cult surrounding Alex Turner.
Traditional set closer R U Mine? is indeed the final song and what a song it is. Even an extended version leaves Sheffield wanting more and while the sound is perfect all night (shout out to Sheffield Arena, a venue I normally can't stand), the light show is inspired and the band themselves assured, there is a feeling of frustration in the air. Is this a triumphant homecoming or just another show on another tour?
A night to remember but, I'm sad to say, lacking a certain romance.
For a list of every Arctic Monkeys album ranked from least best to best, click here.
For a review of latest album Tranquillity Base Hotel + Casino click here.