"Some nightmares never completely end…'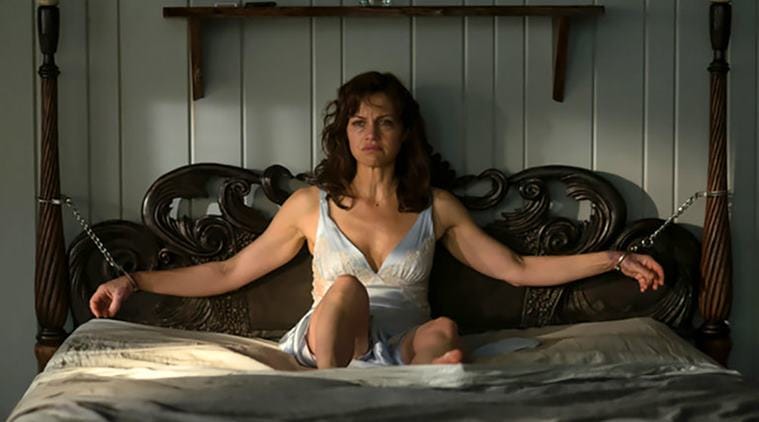 It's a wonderful time to be a Stephen King fan. The last year or so has seen the release of 11.22.63, The Mist and Mr Mercedes on TV as well as IT, The Dark Tower and Gerald's Game on the big screen. The latter is the latest feature length film to be produced by Netflix and it is yet another success.
Jessie and Gerald elope to the countryside to try to revive their ailing marriage. An innocent sex game goes badly wrong with disastrous consequences for everyone. Gerald's Game isn't my favourite King novel but it works as a nice companion piece to the similarly claustrophobic Cujo or to the pain porn of Misery.
Mike Flanagan is carving out a name for himself in the horror genre following the success of Oculus and Hush and fills Gerald's Game with chilling moments and visual flourishes. I've never been a massive fan of Carla Gugino, even though she has been in loads of stuff that I like, but she excels in the main role here. Gugino carries the film in a challenging role but it is Flanagan's direction that is the real winner. He has a knack for crafting creepy set pieces with two scenes in particular exuding an air of menace. Without giving anything away, the aforementioned pair of scenes are genuinely difficult to watch but for completely different reasons.
Stephen King adaptations are always a bit of a lottery but on a scale of The Dark Tower to IT, Mike Flanagan's effort is certainly closer to the latter than the former. It is difficult to make an engrossing movie that takes place entirely in a bedroom (no porn jokes) and Flanagan answers that challenge emphatically. With at least five other adaptations on the way, we are in the golden age of Stephen King media and Gerald's Game is a welcome addition to an imposing body of work.
Gerald's Game works not just as a meditation on escaping from the aftermath of abuse but also as a feminist fable, a gross out horror and a psychological thriller. Flanagan deserves infinite credit for combining all those disparate elements into one satisfying hole.
For a list of the top ten Stephen King adaptations, click here.