They were meant for the stage…
Allow me to take you on a journey dear reader through my list of complaints about live music. Overcrowded venues serving overpriced piss while beer-soaked neanderthals push to the front like they're in the video for Bittersweet Symphony. Bad sound and worse toilets. That one tall guy who follows me around the country in order to stand his tall ass directly in front of me at every gig I attend. Sometimes he wears a hat. Sometimes he has dreadlocks. All times he is tall. Is he Slender Man? It's impossible to say.
But.
Oh! What providence, what divine intelligence, that I should find myself sat down with a good view, great music and giant goddamn inflatable whale. Ladies and gentlemen… The Decemberists.
When someone says they love The Decemberists I just jump right to "did you specialize in a particular period in your undergraduate degree in English?"

— SEAN MCPHERSON (@twinkiejiggles) November 1, 2018
Hailing from Portland, Oregon, The Decemberists are John Moen, Nate Query, Jenny Conlee, Chris Funk and frontman Colin Meloy. I am Rob Johnson, slightly fat man from Doncaster, Yorkshire. Let me explain to you how our histories interweave.
In the long, hot summer of 2016 I stumbled across Castaways and Cutouts, the band's incredible debut album, and I was instantly smitten. Like REM crossed with Bright Eyes with a bit of Weezer thrown in, The Decemberists are so far up my street that they are in charge of the neighbourhood watch and  have organised some killer block parties.
To see them live then was as thrilling as it was overdue. Despite the fact that I could pick a whole new playlist of songs they didn't play, the ones they did were a microcosm of the band itself, eclectic, nerdy, dripping in heartbreak. Hold me.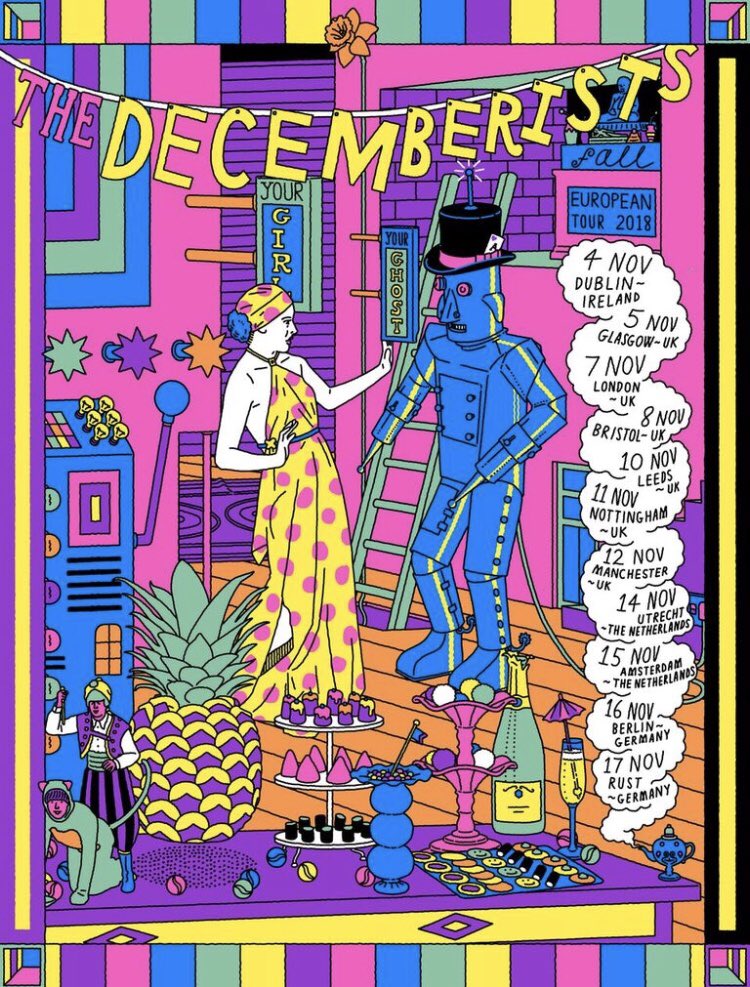 Don't Carry It All kicks things off before Billy Liar and particularly Sucker's Prayer has a room full of people in thrall. Colin Meloy is an engaging band leader who makes a gig in a massive, soulless drinking den feel more like an intimate set in somebody's drawing room.
Make You Better is simply a gorgeous song and the band deliver it beautifully here. Fan favourites The Sporting Life and The Crane Wife 1 & 2 go down an absolute storm as Meloy banters with the crowd in between songs. You know when you just want to be friends with someone? That. If you're reading this Colin, let's be friends!
The live debut of Tripping Along seems like the only real misstep of the evening, simply because it is one of the few forgettable songs in The Decemberists' oeuvre but from there the show really comes to life. Severed bleeds into We All Die Young and an incendiary Rake's Song. It is at this point that you realise it is impossible for Meloy and Co. to pick a setlist to satisfy everyone. These songs mean too much to too many and they just have too many great songs dammit. O Valenica! and Once in my Life close out the first part of the set, the latter with a cheeky cover of the Smiths Please Please Please Let Me Get What I Want thrown in for good measure.
Indulge me for a second. I have a theory. Whenever a band comes back onstage for an encore they always, always play a song that nobody in the audience particularly cares for. Here it is Rusalka, Rusalka/Wild Rushes. A song that is hauntingly lovely when sat in a dark room crying into a tube of Pringles, but has no place in a Decemberists live set.
The band close up with Ben Franklin's Song, a song that I confess I had never actually heard before but that is now probably my favourite song ever, and then, of course, to The Mariner's Revenge Song.
It is at this point in the evening that the gig ceases to be just a gig and becomes a performance. It is theatrical. It is audacious. It is a giant inflatable whale. Everyone should see The Mariner's Revenge Song live before they die. It is that simple. I could try and do it justice with my stupid words but that would be to fall woefully short. Also, this article is already very long and I am tired.
And so, just like that, to rapturous applause, The Decemberists leave us. As we run shrieking into the autumnal West Yorkshire night, one thing is achingly clear. People love this band. Like love. LOVE. And for one night at Leeds Academy, it truly feels like The Decemberists love us right back.